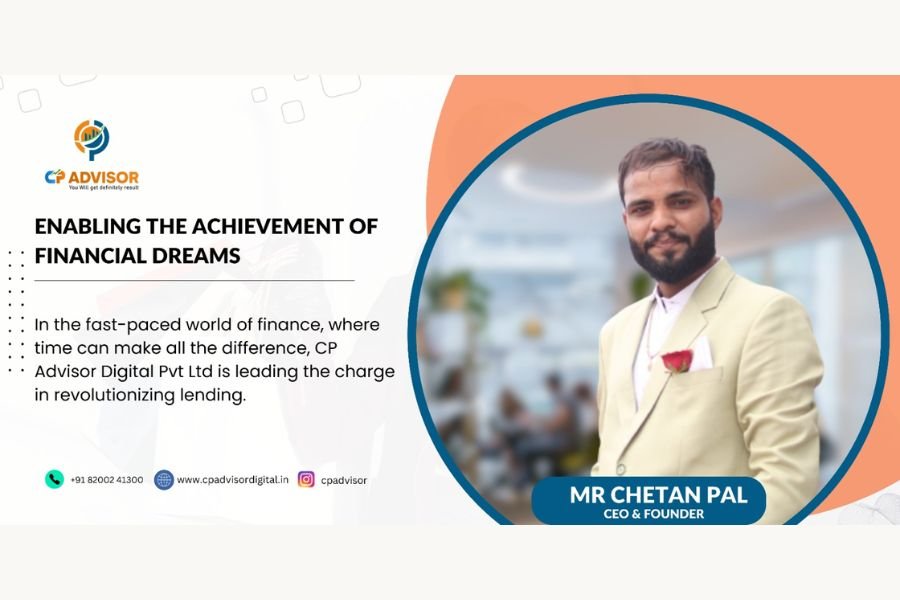 New Delhi (India), September 26: In the realm of finance, where accessibility and efficiency are paramount, CP Advisor Digital Pvt Ltd., headquartered in Vadodara, Gujarat, has emerged as a game-changer under the dynamic leadership of its Founder and CEO, Mr. Chetan Pal. This forward-thinking company is transforming the lending landscape by offering personal and business loans with a focus on digital convenience. With its unwavering commitment to customer satisfaction and its impressive track record, CP Advisor Digital Pvt Ltd. is making waves in the industry.
A Digital Revolution in Lending
CP Advisor Digital Pvt Ltd. has disrupted traditional lending by providing the fastest loan disbursement service in the industry. Recognizing the urgency often associated with personal and business financial needs, the company has streamlined its processes to ensure that customers receive their loans promptly.
One of the company's standout features is its fully digital approach, powered by high-tech technology. This commitment to digitization translates into a seamless and hassle-free experience for borrowers. Gone are the days of lengthy paperwork and tedious verification processes. CP Advisor Digital Pvt Ltd. leverages cutting-edge technology to simplify loan applications, approvals, and disbursements, all from the comfort of one's digital device.
Bridging the Financial Gap
In addition to serving individuals seeking personal loans, CP Advisor Digital Pvt Ltd. plays a pivotal role in connecting banks and Non-Banking Financial Companies (NBFCs) with businesses in need of capital. This bridging of the financial gap is a testament to the company's dedication to promoting economic growth and financial inclusion.
The platform's extensive network spans over 8,500 pin codes, making it accessible to a vast number of potential borrowers across the country. Furthermore, CP Advisor Digital Pvt Ltd. has cultivated partnerships with more than 6,500 Direct Selling Agents (DSAs), or business partners, who play a crucial role in reaching and serving customers in diverse regions.
Opportunities for All
CP Advisor Digital Pvt Ltd. doesn't just stop at providing loans; it offers opportunities for individuals to join their network and earn up to 5,00,000 INR. This unique business model empowers people to become part of the company's growth story while benefiting from lucrative incentives.
Customer-Centric Approach
With a commitment to providing exceptional service, CP Advisor Digital Pvt Ltd. has earned the trust and satisfaction of over 110,000 happy customers. This customer-centric approach is at the heart of the company's success. Whether it's addressing queries, resolving concerns, or offering guidance throughout the loan process, the company's dedicated team ensures that each customer's journey is smooth and rewarding.
A Bright Future
As CP Advisor Digital Pvt Ltd. continues its journey of financial empowerment, its visionary leader, Mr. Chetan Pal, remains steadfast in his mission to revolutionize the lending industry. The company's future looks promising as it explores innovative ways to make finance more accessible and user-friendly.
In conclusion, CP Advisor Digital Pvt Ltd. is rewriting the narrative of financial services by offering a digital, efficient, and customer-focused approach to lending. With its impressive track record, vast network, and commitment to financial inclusion, it stands as a beacon of hope for individuals and businesses in need of financial support.
Website link:- https://cpadvisordigital.in/
Instagram link:- https://www.instagram.com/cpadvisor/
If you have any objection to this press release content, kindly contact pr.error.rectification[at]gmail.com to notify us. We will respond and rectify the situation in the next 24 hours.