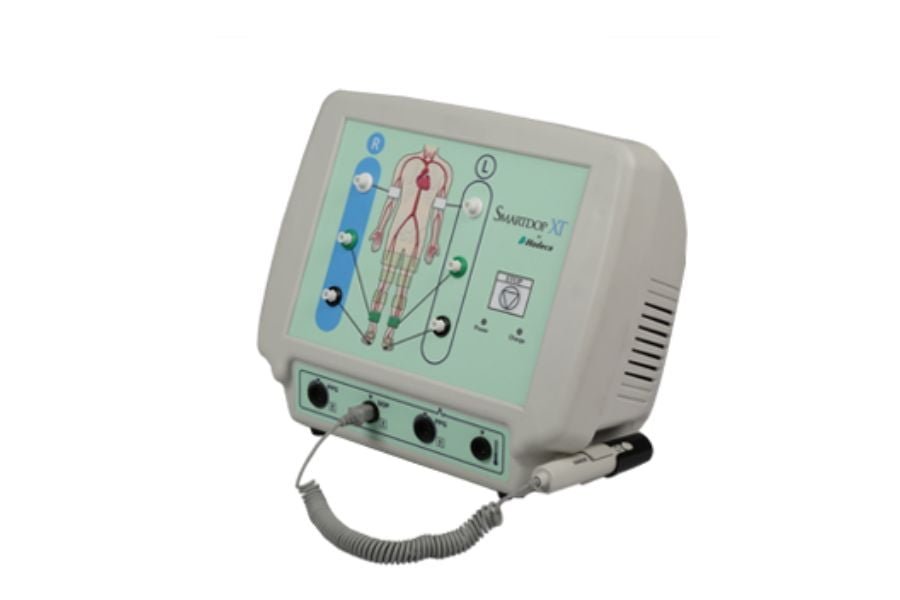 Peripheral artery disease
Peripheral artery disease or PAD is caused by plaque buildup in blood vessels, reducing blood flow to the limbs. Common symptoms include leg pain, cramping, heaviness, coldness in one foot, and slow toenail growth.
High-risk Groups
PAD risk factors include diabetes, obesity, age over 55 years, smoking, high blood pressure, high cholesterol, and a family history of stroke or heart disease. The prevalence increases with age for both men and women.
Peripheral Vascular Examination
Ankle-brachial index (ABI), tibial-brachial index (TBI), and pulse volume recording (PVR) are some of the peripheral vascular tests conducted for the diagnosis of PAD.
Vascular Dopplers that use high-frequency sound waves are employed in such vascular studies.
Kodys Vascular Dopplers
Kody Medical Electronics, a leading manufacturer of diabetic foot care and wound care equipment, offers a wide range of vascular Dopplers to cater to different needs and setups.
Hadeco Smartdop XT 6 Port, Hadeco Smartdop XT 14 Port, and Smartdop 30EX are ultrasound devices that can be used to automatically measure ABI, TBI, and PVR in patients with PAD.
The Hadeco Smartdop XT 6 Port and Hadeco Smartdop XT 14 Port are completely automated vascular testing systems for ABI and TBI studies. They are designed to work with Windows software and provide automated blood pressure and pulse volume measurements for up to 6 and 14 sites, respectively. These systems operate with a simple one-button operation.
The Smartdop 30EX is a small, handheld device that is quick and accurate. It can be used to measure the ABI and TBI. The Smartdop 30EX has a built-in cuff inflator and computer interface. It also has a real-time waveform LCD and an integrated printer for documentation. Add-ons include a PPG probe for toe pressures, pulse volume (PV) for PVR, and Smart-V-Link vascular software.
ABI, TBI, and PVR measurements using sensitive vascular Dopplers can help in the early diagnosis of PAD in high-risk groups of patients. Treatment with exercising, eating a healthy diet, and refraining from smoking or tobacco usage can mitigate the symptoms, resulting in improved patient outcomes.
If you have any objection to this press release content, kindly contact pr.error.rectification[at]gmail.com to notify us. We will respond and rectify the situation in the next 24 hours.